Toddler / Transitional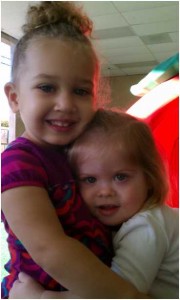 A toddler/transitional is a child 18 to 36 months old, in transition between babyhood and the preschool years. During these sensitive years, young children assimilate and process their own balance of physical, cognitive, social, and emotional stimulation from the world around them. The child in the Toddler Program begins literally to step out into his or her first experience beyond the family. Most often, this is the child's first opportunity to interact with other children similar in age; through the social community of peers, the child begins to understand the importance of cooperation and assertiveness. The structure of the curriculum is based on five developmental areas: Sensory and Perception, Physical and Motor, Self-Help Skills, Language, Social and Emotional.
Toddlers go through a time of tremendous growth with unique needs and abilities that can be well met by the Montessori classroom. Toddlers enjoy freedom of movement and choice to explore the specially prepared environment tailored to their size and abilities. The children alternate between group and individual learning times throughout the day. Group time may include a story, art, music or introduction of a new concept. Individual time can be spent in the library area, practical life and dramatic play areas or choosing a puzzle or another learning material from one of the shelves. Everything in the environment is designed to be safe and aesthetically pleasing – appealing to the child's natural curiosity. Lower fixtures in the lavatory help with toilet training, which is a vital developmental milestone our teachers will be assisting your child with in the class.
The Toddler environment is a secure and nurturing place for the children to begin what Montessori referred to as their "education for life." The materials are specially chosen and presented to allow them to successfully "do", fostering their independence, confidence and concentration. In the toddler program, practical life activities are particularly emphasized as they give children the chance to develop skills to care for themselves and their environment. Toddlers are given as many opportunities as possible to do things for themselves in all aspects of their day. The activities allow toddlers to experience the concepts of sequence, form, shape, movement and sound, and will change and evolve as the child grows physically, emotionally and intellectually.