Montessori Curriculum
Program Goals
My First Montessori is here to creatively nurture children in all aspects of personal growth: cognitive, physical, social, and emotional.  Each child shall have the opportunity to achieve the following objectives:
Acquire positive self concept
Develop social skills
Establish expressive and receptive language
Enhance physical development and perceptual motor skills
Explore creative expression and appreciation for the arts
Partake in discovery, exploration, and experimentation
Develop a respect for cultural diversity
Learn basic concepts as they gain critical thinking and problem solving skills
Our program supports the following goals for all parents participating in the program:
Your child shall be provided quality childcare with a strong underlying academic curriculum.
You shall have an awareness of how your child is maturing and developing.
The My First Montessori staff shall enhance the parent/child relationship by serving as a support system to the family unit.  Opportunities will be created for parent participation in school activities and regular parent/staff communication efforts will be established.
My First Montessori requires at least one Montessori certified/trained teacher in each of our classrooms with a minimum of three years teaching experience.  This means that the teacher has undergone and completed extensive training in Maria Montessori's educational method.  In addition, our support staff is college educated, with most holding a Bachelors or Masters degree in education.
Curriculum
The Montessori classroom is designed and organized for the comfort and stimulation of the child.  At MFM, we strive to nurture a child's intrinsic curiosity by providing them with an enriched and challenging environment to freely learn, explore and express themselves.  Learning is most effective in an environment that allows a child the freedom to make discoveries, with specific ground rules:  Maintain respect for self, others and the environment.  The Montessor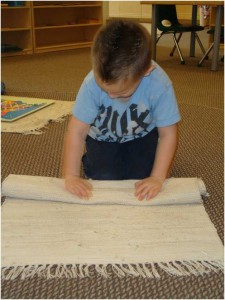 i environment hovers between a fine balance of structure and freedom. Empowering a child with choices is entrusting them with a responsibility for their actions.  Through trial and error children begin distinguishing what is constructive and beneficial with very clear cause and effect consequences.
The classroom is the child's work place.  It is a safe, well-prepared, beautiful space that welcomes the child to work independently and cooperatively.  It contains materials and equipment necessary for children's learning from the very basic to the more advanced.  Depending on the age and needs of the students in the classroom, it will contain materials and equipment for learning in the various subject areas.
The Montessori classroom offers hundreds of unique self-correcting materials in five different subject areas. These materials accommodate many levels of ability and are arranged in progressing order of difficulty.  The materials invite the child to touch and explore, motivating them to learn through natural interests.  Concentration, coordination, cognitive development and good work habits are established through the child's work process.
Practical life is the gateway to the Montessori environment; it is the area in which a child is first introduced to work in a Montessori classroom.  Through the exercises and repetition of "practical" skills, children learn how to complete work from beginning to end by following a sequence of performance steps.  These activities include many of the tasks children see as part of the daily life in their home such as buttoning, zipping, setting the table, watering plants, washing the windows, preparing food, doing the dishes, arranging flowers, etc. Grace and courtesy presentations help children to understand the practice of culturally appropriate social behaviors in a fun way.
While empowering children to care for themselves, for others, and for the environment, practical life exercises are instrumental in assisting children in developing habits of concentration and completing activities. Practical Life is the foundation of independence, as the children move into sensorial, language, mathematics and cultural studies.
The Sensorial materials serve as tools for development.  The materials in this area include various activities to teach the children shapes, colors, spatial relationships and logical thinking skills.  By touching, seeing, smelling, tasting, listening, and exploring children learn to order and classify the physical properties of their environment.  Such activities increase the child's awareness and provide a repertoire of sensorial experiences through which they will use to perceive the world around them.
The Mathematics materials help the child learn and understand mathematical concepts by working with concrete materials.  This work gives children a solid understanding of basic mathematical principles, prepares them for later abstract reasoning, and helps to develop problem-solving capabilities.  This area includes a range from number recognition, place value, subtraction, addition and ordinal counting; all the way to multiplication and division.
Language development is vital to a child's development.  The Montessori environment is rich in oral language opportunities, allowing the child to experience conversations, stories and songs.  Beginning with the sandpaper letters, children link sound and symbol, encouraging the development of written expression and reading skills.  At the next level, the children move on to reading comprehension, sentence structure, vocabulary development, and writing skills.
Cultural Studies include geography, biology, botany, zoology, physical science, art and music.  These subjects are usually presented to reinforce another concept in the classroom.  For example, children learn about people and cultures in other countries alongside their geographical studies.  Broadening the scope of their basic studies will offer children an underlying knowledge, overall understanding, and earned appreciation for the world around them.